Best Camping Chair for Bad Back (5 Top Picks)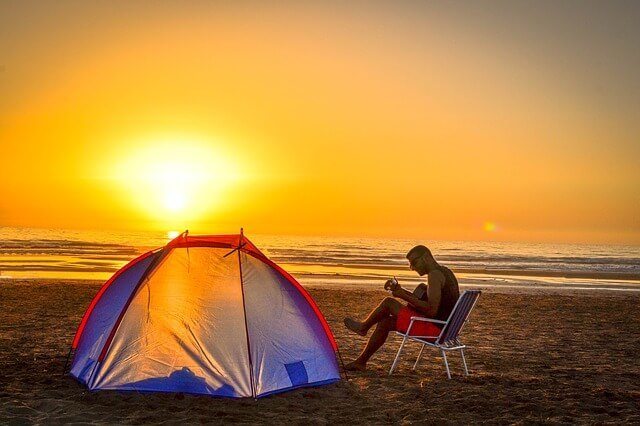 Are you in search for the best camping chair for bad back? Well, read on because we've picked the 5 cheapest, durable, and comfortable camping chairs in the market right now.
For most people, going camping is a great way to relieve stress and basically take a break from our busy day-to-day schedule. All you need to do is pack your camping gear, hit the road, enjoy the outdoors to the fullest, and come back refreshed and revitalized, ready to take on the world.
But what if you have back pain but still want to have a good time camping?
Well, just because you have a bad back doesn't mean you can't have fun. In fact, with the right camping chair, camping mattress and camping bed you don't have to worry about anything.
In this article, we specifically look into the best camping chairs with lumbar support that you should definitely consider carrying along for a back-pain free outdoor adventure.
Comparison Table
5 Best Camping Chairs for Bad Back- Editor's Top Picks
If you're in search for the best reclining camping chair for your back, then the Best Products Zero Gravity Lounge Chair is an excellent choice.
The gravity chair is ergonomically designed to support your back, head, and neck as you relax and unwind after a fun day out camping.
This set of 2 is designed with a lockable reclining system so you can easily adjust it to any position till you find your comfort level. For example, you can fully recline when you want to take a nap or slightly recline for reading or relaxation.
It comes with Oversized Padded Seat that is suspended by a double bungee system for unmatched comfort and durability.
The extra padded armrests provide great comfort while the cup tray lets you place phones, drinks, magazine, and other small items for easy access.
Constructed with sturdy materials, the Best Choice Products Zero Gravity Chair is strong enough to accommodate up to 250lbs. The construction materials are also UV-resistant, so the chair won't wear down when exposed to the sun.
Additional features include;
• Removable and adjustable padded headrest for comfort and support
• Comes with replaceable elastic cords which allows you to create a customized fit for your body size
• Chair is foldable and lightweight for easy transportation
• Measures 32.5″-61″(L) x 25″(W) x 33.5″-44″(H) when open and 38″(L) x 25″(W) x 6″(H) when folded
• Constructed with premium quality, all-weather material for long lasting use
• Available in multiple colors
The Cons
• Few complaints about the chairs rusting
The ALPS Mountaineering King Kong Chair is one of the best camping chairs for bad backs, thanks to its padded back, wide seating, sturdy steel frame, and a 600D polyester fabric that provides unmatched comfort and stability.
Now;
This is one of the best heavy duty camping chairs you'll ever find. Thanks to its sturdy powder-coated steel frame, this chair can accommodate a weight capacity of up to 800lbs!
That's not all.
The chair is pretty wide with 38″ W x 20″ D x 38″ H dimensions, meaning that big, tall, and heavier individuals can comfortable sit on this chair.
Overall, this is a great folding camping chair if you're looking for comfort, portability, durability, and back support.
Additional features;
• Comes with a mesh back pocket where you can store the carry bag or smaller items like phone
• Includes cup holders and pockets located at the armrests
• Backed by ALPS Lifetime Warranty
• Available in 3 colors
The Cons
• It's not the most lightweight camping chair- this has to do with the heavy-duty construction designed to accommodate up to 800lbs
The Caravan Sports Infinity Zero Gravity Chair is currently one of the best reclining camp chairs in the market.
As a best-seller, this chair has won the hearts of many campers especially because it offers optimal back, head, and neck support with its long back panel and a padded head rest.
The headrest doubles as a lumbar support, so you can be sure to get optimal back support.
Featuring a reclining function that locks in any position, you can lean back and relax, or full recline it for an afternoon nap.
When in a fully reclined position, this chair elevates your legs- acts like a footrest- allowing you to rest your legs after a hard, long day.
The chair is also constructed with a highly durable textilene outdoor grade that is suspended by the Double Bungee System. Designed to withstand external elements, this chair will last years of regular outdoor use.
It measures 25.5" L X 45" W X 64.5" H when open and 38.6" L X 26.4" W X 6.3" H. It weighs 12.5 lbs.
Overall, the Caravan Zero Gravity Chair is an ideal choice if you're looking for an affordable camping chair for back support.
Additional features;
• Multiple reclining positions
• Foldable for hassle-free portability
• Available in 6 colors
• Easy to lock into position
• Ideal for camping, beach, sporting event, or backyard
Not many camping chairs offer as much space as the GCI Rocker Folding Chair does. This in addition to the exceptional back support and comfort it offers.
The GCI Rocker Folding Chair is a portable outdoor rocking chair that boasts of a sturdy powder-coated steel frame and an outdoor grade material for long-lasting use, stability, and comfort.
Speaking of comfort, the GCI camping chair provides a smooth rocking motion, thanks to its Patented Spring-Action Technology. Simply lean back and relax and let the rocking motion do its trick.
The steel frame is sturdy enough to accommodate users weighing up to 250 lbs. The seat height stands at 19.7 inches, which makes it ideal for tall people as well.
The chair also has a spacious seating, so it can comfortably accommodate campers who are bigger.
When open, the GCI Rocker Recliner measures 24 x 25 x 34.8 inches and 25 x 4.9 x 34.8 inches while folded. It weighs 12.1 pounds, which is not exactly lightweight. This is expected though due to its heavy duty steel construction.
Additional features include;
• Backed by a Lifetime Warranty
• Features padded armrests for added comfort
• Comes with built-in beverage holder for placing drinks, magazines, phone, and more
• Easy on your back
• Easy to get in and off
• Comes with a carry handle for easier carrying
• Perfect choice for outdoor activities such as fishing, sporting events, tailgating, and more.
Fifth in our list we've chosen the Timber Ridge Zero Gravity Locking Patio Lounge Chair.
Besides being one of the best camping chairs for bad back, we also consider to me among the best reclining camping chair in the market
The Timber Ridge features a comfortable design that includes a generous amount of lumbar support, thanks to its Curved Ergonomic Design that also provides amazing zero gravity experience and conforms to your spine's natural curve.
The camping chair's high back and seat are fully padded for added support and comfort.
You'll also enjoy additional lumbar and head support, thanks to the included Removable padded pillow for the back and headrest
Another feature that you'll absolutely love about this amazing reclining camping zero gravity chair is the natural wood armrests for resting your arms.
Although wooden armrests are not as comfortable as padded ones, they seem to do the job great as most customers seem to love them!
Now:
If you happen to be on the heavier side, don't you worry because this chair is sturdy enough to accommodate up to 350lbs. This is all thanks to its super sturdy steel tube frame.
Its sturdy steel tube frame construction makes it super durable and you'll also love the fact that it's backed by the manufacturer's 1 year warranty against any defective workmanship and materials.
With its 43.5 X 22 X 21.3 inches dimensions and 72 inches while fully reclined, this chair is a perfect option for big and tall people looking for a sturdy, comfy, and affordable camping chair.
Even better, this reclining camping chair is fully adjustable for maximum comfort especially when taking naps, reading, or simply relaxing.
It comes with a flexible bungee suspension system that provides a highly comfortable zero gravity weightless experience.
In a reclined position, you also get to relax your legs after a hard, long day, thanks to the extended footrest.
Overview
Overall, the Timber Ridge Zero Gravity chair is a great camping chair, especially when it comes to offering back support and leg rest. It's one of the best zero gravity camping chairs that most people with back pain find suitable to carry along
Why Carry Along a Camping Chair with Good Lumbar Support?
What better way to relax on a hot evening after a long day trekking in the woods than sitting on a comfy camping chair with good back support? And what better way to relax your sore back after a tiresome day in the outdoors?
Now:
For many campers, a typical camping chair is basically a folding camping chair that can be easily carried around with ease. Although the folding feature is a basic requirement of a camping chair, the problem is, some of these chairs lack the much needed comfort, back support, even the ability to accommodate heavier campers.
Now you can see why its very crucial that you find camping chair with all the necessary back-saving features, comfort, and others.
And the truth of the matter is:
Carrying along a good camping chair with lumbar support will ensure that your back pain will stay in check all through the camping adventure.
And this is not only important if you're a back pain sufferer. Even if you don't have back pain, avoid using traditional camping chairs that lack enough back support. What you need is an ergonomic camping chair that can offer two important features- comfort and back support.
What to Look for in the Best Camp Chair for Bad Back?
Buying a camping chair for back problems can be a little bit intimidating especially when you don't know what to look for. Basically, a good camping chair for individuals with back pain must have the following features:
I cannot stress this enough.
If you suffer from back pain, the biggest mistake you'll make is packing a regular camp chair that neither has good support or is designed for comfort.
This is a mistake that I once made and I have to say that my camping adventure wasn't entirely fun. When my husband decided to order two camp chairs, I told him that old foldable camp chair in the garage would do just fine.
He went ahead and ordered a one chair, though he had really insisted that he buys one for me as well especially because the old chair didn't seem to hold up so well.
I guess I was just trying to be frugal and thought to myself- it's just one week of camping and won't probably spend the few days seated. Of course, it's a mistake that I regret deeply, especially given that it was my first time camping.
My back was aching almost the entire time, all because the chair I had carried was pretty hard on my back, not to mention that it's the most uncomfortable chair I've ever sat on.
Anyway, I don't want to you make the same mistake. So what are the characteristics of a camping chair with good back support?
Well, look for a chair that has a fully-cushioned back and seat. Some chairs come with padded backs consisting of memory foam or other supportive materials.
When you lean back on such a chair, you get to enjoy exceptional back support and added comfort for hours of seated enjoyment.
Another important characteristic is the chair's Ergonomic Design. By ergonomic, I mean a chair that conforms to and supports the natural and healthy lumbar curve of your spine.
You probably don't know this but Standard Camping Chairs with poor back support lead to poor posture, in addition to generating an unhealthy amount of spinal pressure.
All these lead to back pain or basically worsen existing back pain, in addition to a poor posture in the long term. Hence the need for a comfy camping chair with good lumbar support.
The problem with most campers is buying camping chairs that have a lower weight capacity than their actual weight.
When my husband was ordering his first camping chair, he made sure to select one whose maximum weight capacity was 300lbs. You see, my husband weighs a little bit over 220 pounds. That's around 100kgs. He is quite tall at 6"4' and well built.
He knew that a chair that was below his overall weight would end up crumbling under his weight. He was smart enough to choose one that could accommodate as much as 300lbs.
Therefore, if you're as heavy as my husband or weigh a little bit more, consider choosing the best camping chair for heavy person- that is, a chair that is at least 300lbs.
Of course, to accommodate such weight, the chair must feature a sturdy, heavy-duty construction, which brings us to our third consideration.
Construction Materials, Design, and Durability
A camping chair that has good back support but creaks and wobbles when seated on isn't worth purchasing. At all!
The problem with some dubious manufacturers is that they cut corners when making camp chairs just to save a few coins. And the problem is that they are everywhere in the market. In fact, these are the cheap brands you'll see being advertised everywhere. Don't fall prey.
When it comes to choosing a camp chair that is sturdy and durable, carefully consider the kind of materials used to construct it.
As a general rule of thumb, only choose a camping chair that is made of highly durable, sturdy, and strong materials like Steel. A camping chair with a stainless steel frame guarantees you of not just stability, but also long-lasting service.
Camping chairs made with stainless steel are also resistant to most outdoor elements like rust, rain, and stains from recurring moisture.
So basically, when looking for a good camping chair that also offers back support, consider a frame that's made of stainless steel. You'' enjoy years of use, not to mention save a great deal of money.
Another big mistake that most people make when choosing the best camping chairs is choosing the wrong size.
In the recent years, manufacturers are coming up with a range of designs for camping chairs, and some of these designs are primarily targeted for individuals with smaller or bigger builds.
When it comes to choosing a camping chair, consider the height and width dimensions. If you're tall, choose a good camp chair that has a taller back, a larger and higher lumbar curve, a longer seat pan, and of course a higher seat. These specifications especially apply to campers who are at least up to 6 foot 6 inches tall.
Basically, the overall height of best camp chair for tall person should be no less than 38 inches. The backrest should fully accommodate your long back. And because you most certainly have long legs, go for one with a higher seat height
A majority of camping chairs come with armrests- padded armrests for added comfort for your arms. So it shouldn't be so much of a hassle to find one. However, as far as footrest is concerned, only a few models come with a footrest.
When I finally purchased my first camping chair, I didn't want to overlook the two most important comfort and support features- backrest with good back support and footrest. During my second camping trip, I was so tired from all the walking we did on a hiking adventure. I just couldn't wait to rest my sore back and legs and relax. Luckily, my reclining camping chair with footrest did a great job offering best of both worlds.
It doesn't matter whether you have back pain or not. A camping chair with a footrest comes in very handy when you need to relax your legs. Although its not necessary, I would recommend it based on my good experience with it.
Reclining camping chair/Zero Gravity Camping Chair
Speaking of reclining, I absolutely love what reclining camping chairs can do for your back. Recliner camp chairs are chairs that feature a backrest that tilts back to an ideal angle for maximum back comfort. Most recliner camp chairs also feature a footrest for relaxing your legs.
You know the good thing about reclining camping chairs is that you can even comfortably take a nap without worrying about tipping over!
But before choosing one, make sure that the chair is stable enough to accommodate your weight. As we stated earlier, it would be a total waste of money to buy a camping chair whose frame isn't sturdy enough to accommodate your weight. Plus given the fact that it's a recliner, you should be worried about its ability to accommodate a certain weight.
Overview
Of course, there are a few other important factors to consider like price, whether the chair is foldable, or whether its lightweight and portable. Don't overlook these as well. But all the same, the key is to find the best camp chair for bad back.
Best Camping Chair for Bad Back- Wrapping It Up
There are literally hundreds of camping chairs in the market, but only a few can offer optimal back support and comfort.
The chairs we've reviewed as some of the best for those suffering from back pain. They are ergonomically designed to protect your back and sturdy enough to offer you years of support and comfort.
Hopefully, you're now in a position to take your pick from out 13 best camping chair for bad back! Good luck and have fun camping!
Related Posts: