Best Baby Carrier for Back Support (Top 10 Picks)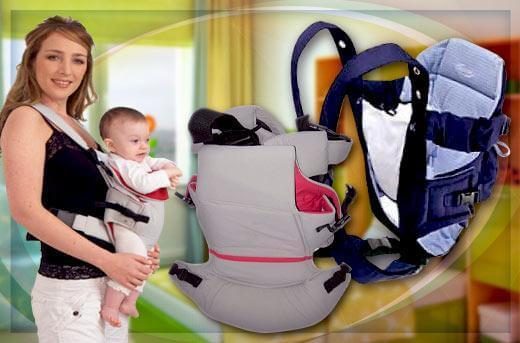 In search for the best baby carrier for back support? Read on! We've reviewed the Top 10 best baby carriers that won't cause or aggravate your back pain.
In a rush? Here is a list of the 10 best baby carriers for back pain;
Now;
It's no secret that back pain is a common setback for moms/dads who need to often carry their little angels around.
Carrying an infant puts a lot of pressure on your back as well as shoulders. And the more your baby grows, the more the weight load increases, which further results to back pain.
It gets even worse when the sling or carrier you're using doesn't offer the much needed back support and comfort.
In addition, the constant bending and lifting of the child doesn't make things any easier for your back.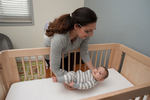 With the ever rising cases of back pain caused by child carrying, you can never be too careful. You want to be in your best health when raising your adorable little one.
Fortunately, there is one way to avoid back pain while carrying your little one;
Using a baby carrier that is ergonomically designed to offer superior back support and comfort.
You won't find any other baby carriers that offer good back support as these 10. So without further ado, let's check out the best baby carriers for bad backs.
Best Baby Carrier for Back Support (Our Top 10 Picks)
The Lillebaby ergonomic baby carrier is currently one of the top-rated and best-selling baby carriers in the market right now. And it's all for the good reasons.
As a matter of fact, this infant carrier has been acknowledged as a Hip Healthy baby carrier by the International Hip Dysplasia Institute.
This is all because it comes with an adjustable seat, and leg openings that promote proper hip support, front-leg seating position, and allows your little one to stay in a curved C-spine position.
Basically, this is a baby carrier that includes all the important features you'd ever want in a baby carrier.
Here are the top features that makes it the best baby back carrier;
Lillebaby carrier has quickly become a popular choice for moms with back pain due to its incredibly supportive lumbar support.
You see, the unique lumbar support in lillebaby not only relieves lower back pressure from carrying your little one for longer periods.
It also allows the baby's weight and pressure to be evenly distributed throughout your back. Of course, this means less pressure on the spine and reduced instances of back pain.
As your child grows bigger, you want a baby carrier that can still accommodate his increasing weight without putting a strain on your back.
Lillebaby definitely takes the crown for offering unmatched back support and comfort.
Great Versatility- Offers 6 Carrying Positions
It's hard to come across a baby carrier that offers not just 2 but 6 carrying positions.
Lillebaby carrier this record by offering 6 carrying positions for when your child is just an infant to when he's all grown up.
What this means is that you can carry your little one in the fetal position at 0-3 months, infant inward position at 0-12 months, ergonomic outward position at 6-18 months, hip position at 6 months plus, toddler inward at 6 months plus, and back position at 6 months plus.
And because it's ergonomically designed, every position is comfortable for both you and your child
Adjustable Back Panel- Grows with your Baby
Babies grow very quickly, so you shouldn't be surprised if they outgrow their newborn outfits in just a few months.
Therefore, the baby carrier you choose must grow with your baby, and one feature to lookout for is an adjustable back panel.
Lillebaby's back panel is adjustable, which means as your baby becomes bigger, you can adjust the carrier for a perfect fit, and unmatched support to its back, neck, and head.
Ergonomic and Hip Healthy
It's no secret that non-ergonomic baby carriers are a leading cause of hip dysplasia also known as hip dislocation in babies.
You see, due to their poor design, these carriers interfere with healthy hip positioning in babies. This is especially when used for extended periods of time, and on a regular basis.
The biggest problem is that hip dysplasia in babies can go unnoticed until he/she is in the walking stage. The problem can also result to painful arthritis in adulthood.
Lillebaby addresses this serious concern by designing an adjustable seat that keeps your little one's hips and legs in a comfortable "M" position. This position basically promotes a healthy hip development at all stages of development.
It's no wonder it was recognized by the International Hip Dysplasia Institute as a Hip Healthy Carrier for all babies.
A lot of moms are always complaining about their babies getting all hot and sweaty especially during summer while inside a baby carrier. Of course, this means that most of them use carriers that are not constructed with mesh lining which makes them breathable.
Lillebaby's is a darling for many moms as its highly breathable, which means it allows for better air flow for you and your child's comfort.
When it gets really hot especially in summer, your baby stays cool, dry, and comfortable.
Additional features:
• Comes with adjustable straps for easier breastfeeding
• Comes with adjustable waist belt which provides a customized fit for petite to tall parents
• Features adjustable side panels that allow you to either increase or reduce the width for comfortable hip positioning
• Comes with a sleeping hood for support while sleeping and for sun protection
• Features a zippered pocket
• Constructed with 100% cotton material for comfort and durability
• Can be used without an infant insert
• Weight capacity- 7-45lbs (3.3kg-20kg)
• Lightweight construction- measures 1.6 pounds
The Cons
• Could be a little bit cheaper
Our number two pick is the Lillebaby The Complete Airflow Baby Carrier.
Like the number one carrier, this model offers superior lumbar support thanks to its generous padding, and its ability to distribute your baby's weight evenly. It also relieves lower back pressure, reducing your risk of back pain.
Even as your baby grows heavier with time, this baby carrier guarantees unsurpassed back support and comfort.
The carrier also offers 6 different carrying positions, and includes two way straps which allow you to carry the backpacks style or at the front. You can go about your daily chores or even take a walk in the neighborhood with the baby strapped on your back or front.
Another important feature you'll love is the adjustable panel that grows with your child. Your child will have enough room to grow (the carrier accommodates up to 45 lbs).
Unlike low quality carriers, the Lillebaby provides proper hip support, a front-leg seating position, and a C-spine position, all thanks to its leg openings and adjustable seat.
This simply means that your child will have proper hip support, regardless of the position. Oh, and the carrier has been acknowledged by the International Hip Dysplasia as a 'hip healthy carrier" as well!
That's not all!
It was acknowledged in the Cribsie Awards as the Most Comfortable Carrier. So as far as comfort, support, style, and functionality are concerned, the Lillebaby Airflow is the best.
The carrier is also completely breathable, comes with padded shoulder straps, and has an extendable soft waist belt.
Additional features;
Perfect choice for newborns to babies weighing up to 45lbs
Has an adjustable seat and hood
Features dual traps for hassle-free breastfeeding
More padding for you and your baby's comfort
Easy to adjust straps and waist belt to allow for a more customized fit for petite to tall parents
Features a zippered pocket
Good rating and numerous positive customer reviews
The Cons
It doesn't come cheap- However, a lot of parents are very happy with its quality, durability, and functionality. It might be expensive, but will it will totally give you great value for your money.
Ergobaby Carrier 360 All Carry Positions is yet another carrier for back carry that doesn't compromise on you and your baby's comfort and support.
To ensure maximum comfort for your baby, this carrier comes with an adjustable bucket seat that supports your baby's natural "M" position.
The M position simply means that baby's knees are even to or above the hips, and that the spine is curved in a "C' position.
A lot of parents are not aware that a carrier that does not support the baby's natural M position may possibly lead to hip dysplasia and poor spinal development.
The Ergobaby is one of the few carriers that offer the safest and most comfortable carrying positions for your child.
Speaking of positions, the Ergobaby offers the flexibility of carrying your kid in any position.
The face-in position is perfect for newborns, but as he/she grows and adds weight, it becomes easier and less tiring to carry him/her at hip, back or even front.
The Ergobaby also offers excellent lumbar support, thanks to the padded lumbar support waist belt and ability to distribute baby's weight evenly.
This means that there will be less pressure on your lower back and spine, reducing your risk of experiencing back pain and soreness.
The padded shoulder straps also protect your shoulders from pain and soreness by reducing the excessive strain from your baby's weight.
If you're still recovering from CS operation, this carrier comes with a wide wraparound waistband that maximizes comfort while offering unmatched lower back support.
Another incredible feature worth talking about is the Extendable Back Panel that can either be folded to support your baby's head, or unfolded to provide your kid with unmatched back support.
Also included is a UPF+50 tuck away hood that is designed to shield your little one from the harsh external elements like the sun, wind, and rain.
Additional Features;
Does not come with an infant insert- sold separately
Thoughtful design allows for hassle-free breast-feeding
Adjusts easily to provide a customized fit for multiple wearers- from petite to tall and big parents
Durable premium cotton construction to ensure long lasting use and safety of your little one
Easy to clean- this is a machine washable carrier- and retains its original shape after washing- it won't snag or loosen
Lightweight- weighs only 1.59 lbs
The Cons
Doesn't come cheap, but given the premium features it offers, it's totally worth it
If you're looking for the best baby carrier for back support but are on a budget, the Tula Ergonomic Carrier is just what you need!
Ergonomically designed with an M-position seat, the Tula supports a healthy hip (reduces the risk of hip dysplasia) and spine development for your baby.
Although the carrier provides multiple carrying positions, both the front and back carry positions support healthy development of your child's body.
The two positions also offer maximum comfort and support for the parents.
Speaking of support, the Tula is does not compromise on the parents' comfort as well. It comes with a Wide Padded Waistband that evenly distributes the baby's weight which reduces pressure on the lower back.
Even as your child grows and adds weight, the waistband will help reduce the risk of ever experiencing back pain. This is one feature that a lot of moms and dads admire most in the Tula Ergonomic Carrier.
Oh…and the waistband can be adjusted to provide a customized fit for all body sizes.
The baby carrier is also fully adjustable- it basically grows with your baby while still offering the same comfort and support.
The carrier is ideal for babies at the 15-45 weight range, or even at 7 pounds when used in combination with an Infant Insert.
On to breathability;
A lot of parents often don't consider the breathability of a carrier when getting one. They often end up being disappointed when the carrier they purchase gets so hot and causes the baby to sweat.
High quality baby carriers like the Tula feature a breathable mesh panel that provides excellent ventilation, providing cool comfort especially during summer.
Even better, the Tula is constructed with a single layer panel that's made with 100% premium cotton, which further provides cool comfort.
Additional features worth noting include;
• A matching removable hood for sun protection, sleeping, and extra privacy while breastfeeding
• Dual adjustment padded straps for maximum support and comfort for neck and shoulder
• Extremely easy to use and adjust
• Sturdy construction for lasting use and safety
• Sports unique and stylish prints- plus a wide range of colors
• Easy to clean- machine washable
• Supports bonding
• Budget-friendly
The Cons
• Infant Insert is sold separately- which means additional expenses
The Boba Baby Carrier is a well-loved carrier by moms and dads alike.
And what's not to like about a baby carrier that is ergonomically designed, offers multiple carry positions, stylish and unique, and provides unmatched back and shoulder support?
Like our top 4 carriers, the Boba Baby Carrier also provides your baby with the comfort and support by positioning him/her in the M-seat position which supports a healthy hip and good spinal development.
Being a large-sized and padded carrier baby carrier, the Boba does not cut off blood circulation in the baby's legs, and properly supports the back, neck, and head.
Made with 100% premium cotton, this carrier provides cool and soothing comfort so your baby falls asleep for longer periods.
The material is also highly breathable, which makes it an even more ideal carrier for summer.
The Boba Classic 4G also comes with an Infant Insert which allows for proper fitting and support for smaller babies. The Insert is detachable, so when the baby grows older, you can simply stack it away.
Now, as far as back support is concerned, the Boba Baby Carrier does an excellent job protecting your back against the back pain from your baby's weight. It comes with a wide padded waistband that evenly distributes your baby's weight to reduce strain on the back.
The waistband is also adjustable to provide a customized fit for parents with varying body sizes.
Overall, the Boba Baby Carrier Classic 4Gs is an ideal choice if you're looking for an affordable carrier with all the necessary comfort and support features.
Additional features include;
• Multiple pockets for convenience storage
• Ideal for parents from 5' 0" to 6' 3" in height and 25" -58" waist
• Perfect for babies as small as 7 pounds up to 45 pounds
• Comes with adjustable footstraps which provide the baby with extra leg support- they grow with your child for maximum comfort
• Numerous positive reviews from satisfied customers
The Cons
• It doesn't come cheap either
Read also;
Best Baby Carrier for Back Support- Wrapping it Up
Whether you have pre-existing back pain or not, using an ergonomic baby carrier is very important.
There are thousands of back pain cases arising from regular use of low-quality baby carriers and wraps. Some of these carriers are cheap and a lot of parents make the mistake of purchasing them without considering important features like back support or even child's safety.
The 10 baby carriers we've reviewed above don't come cheap. However, if you really care about your back and comfort while carrying your little one, these are without a doubt the perfect choices.
Plus they are incredibly durable with exceptional features- definitely worth the money.
Hopefully, our list of the 10 best baby carrier for back support will help you make an informed decision when buying one.