Best Home Chair for Lower Back Pain (Our Top 5 Recommendations)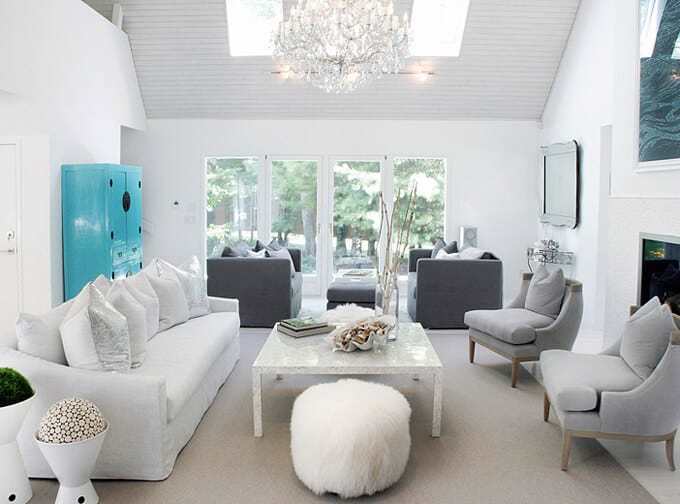 Searching for the best home chair for lower back pain? Read on. We have selected 5 of the best living room chairs back pain that will not only provide great support for your back, but also match with your living room décor!
After a hard, long, and tiresome day, we all need some time to relax and take a break. And what a better way to do it than with a comfy living room chair? It gets even better if the living room chair is designed to offer unmatched lumbar if you suffer from lower back pain!
Your living room chair should go beyond the aesthetics. It must be ergonomic, should provide sufficient lumbar support, and conform to your spine's natural curve for proper posture.
Additionally, a good living room chair must be sturdy, of high-quality, easy to clean, and should easily match with your living room décor.
So if you want to find out which home chair will work best for your back pain and last decades of continual use, read on.
5 Best Home Chair for Lower Back Pain
Occupying the number one spot is one of the best selling and most sought after home chairs for back pain, the Esright Massage Recliner Chair Heated PU Leather Ergonomic Lounge.
The manufacturer of this ergonomic reclining chair has gone a notch higher to provide you with superior heat therapy, massage therapy, vibration, and comfortable back support, all in one ergonomic package. With these features, the massage recliner chair provides maximum relief from back pain, promotes circulation, and promotes good well-being.
The massage function makes the chair vibrate which gently massages your back, particularly the lumbar area. This is complemented by the heat function that allows heat to penetrate your lumbar area, providing optimal lower back pain relief, relaxation, and comfort. The chair comes with a simple to use remote control that lets you choose and manage the 2 massage intensities and 5 control modes it comes with. This gives you full control of your own comfort!
With its comfy back cushion and armrest padding that's made with extra thick sponge for extra comfort and back support, this ergonomic living room furniture will have everyone in your home asking to relax in it! Even without the massage, vibration, and heat function, the highly padded back with thick sponge will still deliver soothing and supportive comfort for your back.
Additional leg comfort and support is provided by the recliner's leg rest that folds out.
Who wouldn't want a little massage and relax their backs and tired legs after a hard day at work in such a chair?
Comfortable yet flexible and luxurious, this ergonomic chair for back pain reclines up to 150 degrees and with its 360-degrees rotate Swivel, this chair allows for a full range of movement and flexibility for unmatched comfort. So if you're also looking for the best recliner for sleeping, the Esright Massage Recliner Chair is a perfect fit.
Modern and stylish, this living room chair will make a valuable addition to your home. It is made with soft, padded, faux leather upholstery that combines classic appeal, comfort, and durability, with the added bonus of easy cleanup.
The chair's heavy-duty construction makes it sturdy enough to support users of up to 300 pounds. It also comes with 2 cup holders on each armrest and 4 storage bags at the sides for resting your drinks and holding magazines.
And with its plush PU leather upholstery and a variety of colors, this simple and elegant piece of living room furniture will perfectly blend in any room décor. It's incredibly easy to assemble and in just a few minutes, you will be enjoying the great comfort it has to offer.
The living room chair measures 33.1″(L) by 35.8″(W) by 43.2″(H), weighs 92.6lbs, and will fit well in most living rooms, though you might require more space as it's a little bit large.
Overall, the Esright Massage Recliner Chair is a great quality chair that is within most people's price range. With its heat and massage functions, the recliner highly suitable for those with back problems. It's a bestseller on Amazon in its category and most importantly, you don't have to break a bank to purchase it!
Next in our list is the Flash Furniture Contemporary Beige Leather Recliner and Ottoman recliner chair.
If you're on the lookout for a classic recliner chair that will offer maximum comfort while adding elegance and classiness to your living room, this is the perfect home chair for you!
The Flash Furniture Contemporary Leather Recliner is one of the most comfortable recliner chairs for back pain you will ever sit in. Designed with thickly padded back, plush upholstered arms, a thickly padded integrated headrest and LeatherSoft upholstery, the Flash Furniture Recliner chair allows you to sink into its softness after a long, hard day at work, and rest your feet on a thickly padded matching Ottoman for comfort, support, and full relaxation.
For comfort and safety, the recliner is comfortably padded recliner with Ottoman is filled with CA117 fire-retardant foam, therefore, as far as fire safety is concern, you're on the safe side!
For maximum back support and unmatched seating experience, this recliner living room chair comes with a Ball-Bearing Swivel base and Mahogany Wood Base with floor glides that makes swiveling and gliding effortless. This in addition to a reclining adjusting lever that lets you adjust the recliner to the most supportive and comfortable position.
Compared to most living room chairs in the market, the Flash Furniture Leather Recliner is lightweight at 61lbs. It measures 32-1/4″ x 41″ x 32 – 40″, and can accommodate users weighing up to 250lbs. The corresponding Ottoman measures 22″ x 15″ x 18-1/2″.
It's not as large as most recliner chairs and will fit even in smaller spaces. The chair is also pretty easy to assemble, so you can start enjoying its comfort right away.
And despite is modest and stylish looks, the Flash Furniture recliner chair incredibly sturdy and well built. It's one chair that will give you years of comfort, back support, relaxation, and hassle-free cleaning.
As far as its price is concerned the Flash Furniture Leather Recliner Chair is competitively priced and given the fact that it's one of the most affordable yet most refined living room chairs in the market, it's worth every penny!
It comes in Beige, Black, Brown, and Brown Vintage Colors, is made with eco-friendly materials, and will give an elegant and stylish look to your living room, office, or whichever room you find fit.
Next on the list of the best home chair for lower back pain is the Homall Single Recliner Chair Padded Living Room Sofa Recliner.
Before we move on, we would like to notify you that the Homall Single Recliner Living Room Chair is one of the most affordable yet highly functional and durable living room chairs in its category. For a recliner chair that is constructed with high-quality weather-resistant PU leather, thick, sturdy steel frame, double thick foam padding, and an classic, elegant design, it's hard to believe the authenticity of its price tag!
If you're on the lookout for a top-rated recliner chair for back sufferers, the Homall recliner has got you covered. As one of the best recliners with lumbar support, this living room chair comes with a thick padded back and large-sized seat cushion for optimal lumbar support and comfort. The wide curved armrests add the much needed extra comfort.
Always longing for somewhere to rest your legs and relax after a tiring day? This comfy recliner together with its upgraded footrest that comes with thick foam padding will make your wish come true!
The chair's push-back recliner design with adjustable footrest lets you easily customize positions to meet your needs. For example, you can slightly recline the chair for watching TV, slightly recline it more while taking a rest and relaxing, or fully extend its reclining capacity for a nap in the afternoon. It's basically a multi-function recliner chair that you will want to have in your living room or office.
Its dimensions are 29.2 x 20.7 x 27.7 inches and is pretty easy to assemble, so you don't have to worry about taking too long to feel the comfort and support it offers. At 61lbs, the Homall reclining chair for back pain is lightweight compared to most recliners in the market. This probably has to do with the fact that it's not as large-sized as others. And as a medium-sized living room chair, this chair won't take up much of your living room or office space.
It's an elegant, stylish piece of furniture that will make a wonderful addition to any room in your home, especially with its High PU Leather exterior that is plush and easy on the eye, as well as its exquisite stitching design that also adds to its durability.
It's an excellent choice furniture for back pain sufferers, especially if you want a home chair than can offer optimal back support, but don't want to spend a fortune on a high-end model.
To finish our list of the top 5 best home chair for back pain, we have chosen the GDF Studio 300599 Macedonia Recliner, a classy yet affordable living room furniture that is manufactured by GDF Studio, a highly reputable manufacturer that strives to provide quality, functional, and stylish living room furniture.
The GDF Studio Macedonia Recliner Chair is a mid-century, modern back friendly recliner chair offers optimal back support and comfort for people suffering from back pain and other posture related problems. It features a thickly padded button tufted seat back so you can enjoy a pain-free relaxation when reading, watching TV, or even taking a nap.
This classic ergonomic living room chair by GDF Studio is made with a tall backrest and plush, long padded armrests with the purpose to promote a healthy posture and offer excellent comfort as you lounge. Its an excellent choice if you're looking for a high back living room chair
The GDF Studio Macedonia recliner chair is one chair that seamlessly combines comfort, support, and aesthetics for an unmatched relaxation experience. With its super sleek and innovative design that hides the leg rest and recliner mechanism, and a smooth finish with clean lines, this chair doubles as a stylish yet highly functional chair. No one will even realize that this living room chair can recline until you recline and put your feet up after long, tiring day.
The chair is large enough to accommodate users of different sizes, yet it's perfectly sized to tuck in smaller living rooms or at the corner of any room. It measures 27.2 x 34.2 x 38 inches and weighs only 68 pounds.
Assembling this chair is pretty easy as all you have to do is connect the back support to the bottom and you're good to go. The chair comes in a wide range of colors- from Cream, Muted Blue, Dark Blue, Light Grey Tweed, Muted Green, Muted Orange, Muted Purple, Red, to Muted Yellow. Obviously, the manufacturer's main goal is to provide you with a wide color selection to make it easy for you to find one that matches your living room or any other room's décor.
Overall, the GDF Studio Macedonia Recliner Chair is a great lumbar support recliner, a stylish and elegant living room chair for back pain and one of its strongest points is its really appealing mid pricing, yet it offers most of the benefits commonly offered by pricier models.
Fifth in our list we've chosen the Ashley Furniture Signature Design Olsberg Rocker Chair. If you're a looking for a home chair that can provide exceptional back support while dramatically transforming your living space with the rustic look of weathered leather, then we highly recommend the Ashley Furniture Signature Design Rocker Recliner Chair.
Washed in exotic earthy Southwestern tones, this highly ergonomic Larkinhurst Faux Leather Rocker Recliner is an incredible option for people who prefer a calming experience and gentle motion.
If you suffer from back pain or other posture related issues, the recliner's overstuffed back pillow provides unmatched lumbar support as you rock and recline. Add this to the high-resiliency foam cushion that is wrapped in thick poly fiber, traditional rolled arms that are accented with nail head trims and extra roominess, and you have yourself the best home chair for lower back pain!
Always longing for somewhere to put your feet up after a long hard day? Well, a single pull using the pull tab/handle is all you need to achieve customized feet comfort. Simply adjust the recliner using the pull tab to achieve the perfect comfort level that is easy on your back, while resting your arms on the stylish rolled arms.
Its classic reclining mechanism offers infinite comfort possibilities. You can slightly recline the chair for relaxed reading, incline it more for comfortable T.V watching, or fully extend it for complete relaxation or napping.
Covered with an impressive faux leather blend of polyester/polyurethane, Jumbo window pane stitching, and an all metal construction to the floor, this manual reclining rocker chair envelops you in comfort and quality.
The Larkinhurst Recliner Rocker chair measures 43" W x 40" D x 40" H, and can easily fit through doorways measuring 32" or wider.
One of the best features about this recliner model is that you can easily complement it with the Larkinhurst Sofa, Larkinhurst Loveseat, and the Larkinhurst Queen Sofa Sleeper that the company manufactures, since they all come with similar classic nail head trim accents, the same steel gray leather, and similar design. You won't have to endure the hurdle of searching for other products to mix and match.
The chair comes unassembled, but assembling it is easy and quick, so you can start enjoying it as soon as it arrives.
Overall, the Ashley Furniture Signature Design-Larkinhurst Rocker Recliner is the best quality relaxing chair for back pain you can get in this price range and in its category- all thanks to its contemporary look, elegant design, and quality. It will certainly serve as a valuable addition to your home while supporting your back, spine, neck, and legs the entire time.
Best Home Chair for Back Pain-Wrapping It Up
When it comes to choosing the best home chair for lower back pain, one thing you must consider is whether the chair can offer the much needed back support. This is especially important if you suffer from back pain. Hopefully, our top 5 best home chair for lower back pain will make it extremely easy to choose a chair that suits your needs. Remember to consider features like reclining functionality so you can always relax your painful back.